The Navitimer Celebrates Its 70th Anniversary with a Host of New Dial Colors
The Breitling Navitimer is one of the most iconic pilot's watches ever made. First introduced in 1952, the Navitimer has been a mainstay in Breitling's collection for 70 years. To celebrate its 70th anniversary in 2022, Breitling is releasing several new dial color variations of the Navitimer.
The Origins of the Navitimer
The original Navitimer was developed in conjunction with the Aircraft Owners and Pilots Association (AOPA) in 1952. It was intended as a wrist-worn flight computer that pilots could use to make critical flight calculations. The slide rule bezel enabled pilots to calculate things like fuel consumption, climb rate, and converting units. The name "Navitimer" is a portmanteau of "navigation" and "timer."
When it was first introduced, the Navitimer ref. 806 was groundbreaking. No other watch on the market could match its slide rule bezel flight computer capabilities. The original model featured a black dial with 3 white sub-dials and luminescent dauphine hands. It was powered by the Valjoux 72 manual wind chronograph movement.
Over the decades, Breitling has released countless variations of the Navitimer. It has been made with automatic movements, alternative case shapes, chronograph layout changes, and additional complications like GMT. But the classic design of the silver rotating slide rule bezel and black dial with contrasting sub-dials persists throughout generations.
The Navitimer Becomes an Icon
During the 1950s and 60s, the Navitimer cemented itself as one of the most important pilot's watches ever made. Its popularity spread beyond aviation and it became Breitling's signature model, their most famous and recognizable watch.
The Navitimer has been worn by many famous pilots over its long history. American astronaut Scott Carpenter wore a 24-hour dial Navitimer Cosmonaute on his 1962 orbital flight aboard Aurora 7. The Soviet cosmonaut Yuri Gagarin, the first human in space, also wore a Navitimer among his personal effects.
On May 24th, 1962, US Navy Lt. Commander Scott Carpenter piloted the Aurora 7 spacecraft on a 3-orbit trip around the earth. Part of the Mercury program, it was only the second American orbital flight. On his wrist, Carpenter wore a modified Navitimer with a 24-hour dial that Breitling produced for him called the Cosmonaute. This was the first Swiss wrist chronograph in space and greatly added to the Navitimer's mythical status as a pilots watch.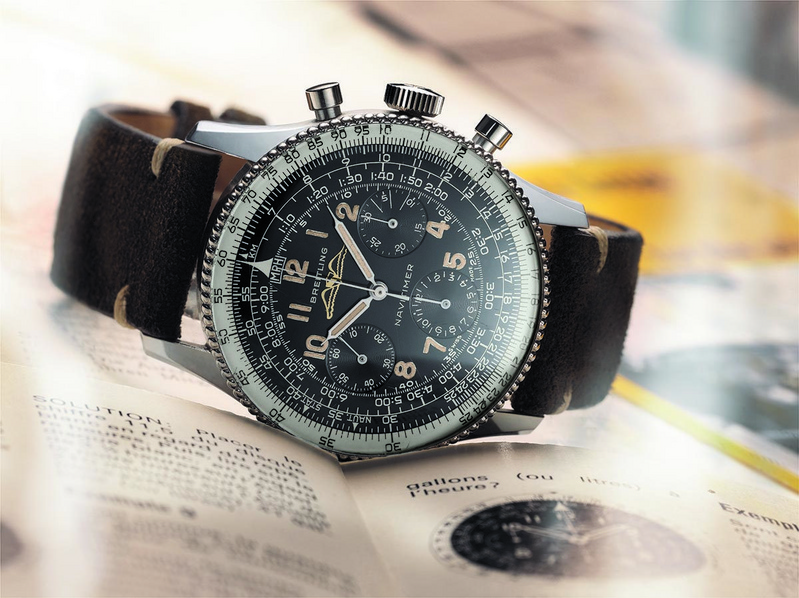 Later famous wearers of Navitimers have included Jim Lovell of the Apollo 13 mission and actresses Sharon Stone and Charlize Theron. Its combination of good looks, aviation heritage, and useful complications has made the Navitimer an enduring icon.
70th Anniversary Navitimer Models
For 2022, Breitling has unveiled several new releases to mark the Navitimer's 70th year of production. Most prominent are new dial colors across different size options.
For the classic 43mm stainless steel Navitimer powered by the Breitling manufacture B01 movement, there are three new colors:
Black dial with silver sub-dials
Green dial with silver sub-dials
Burgundy red dial with silver sub-dials
Each has contrasting inner slide rule bezels in silver with black and red accents. The burgundy red is a particularly striking color that plays beautifully off the silver slide rule bezel. It has a rich, deep red tone that adds flair while still remaining legible.
The 46mm Navitimer Chronograph 46 also gains two new dial options:
These darker dials have red and silver accents on the sub-dials and inner bezel. The Stratos Gray has a vertical brushing that adds visual intrigue.
For the first time, Breitling is also offering the Navitimer with a blue alligator leather strap. This strap compliments the blue hands and blue sub-dials beautifully. The blue strap is currently offered on the 43mm stainless steel model with silver dial.
Breitling has also released two limited edition 70th anniversary Navitimer models:
Navitimer B01 Chronograph 43 TWA Edition
Limited to 1952 pieces
Inspired by TWA livery colors
Black dial with red accents
Navitimer B03 Chronograph Rattrapante 45
Limited to 250 pieces
Split-second rattrapante chronograph
Ivory colored dial with red and blue details
Like previous limited Navitimer editions, these two watches will likely sell out quickly given their exclusivity. The red, ivory, and blue colors make them unique collector's pieces.
An Enduring Legacy
For 70 years, the Breitling Navitimer has endured as one of horology's most famous and coveted watches. The combination of its aviation heritage, useful complications, and versatile styling has made it iconic. While other pilot's watches have come and gone, the Navitimer remains Breitling's flagship model.
The new dial colors released for its 70th anniversary present fresh takes on a classic icon. The burgundy and blue dials in particular are bold innovations that still capture the spirit of the Navitimer. After seven decades of continuous production, the Navitimer is still going strong and remains a pillar of the Breitling brand. With these new variations, it is ready to take on the next 70 years in style.
d4l.co can offer best replica breitling watches,if you like ,please feel free place the order.